Discussion Starter
·
#1
·
This is just a post of the accessory switch panel and driving light setup I recently finished on my Patriot. Just wanted to show what I did and maybe give some ideas to others.
This is the switch panel I used. (Fenix4200 mini)
6 wire trailer cable like this for the wiring.
These are the lights. (Rigid R-Series 36)
The bus bar/terminals I made work with the factory terminals.
My original thought was a light bar setup but I really didn't want anything obvious or tacky looking stuck on the front of the Jeep. My jeep doesn't have fog lights so I got to thinking, "why not put driving lights where the fog lights would go?". A good friend who's done various lighting projects helped me out with this one. We used PAR36 style LED lights that we modified and made simple brackets for them with strips of aluminum. Here's how we did it:
We used a 5/8" tap and threaded the existing holes on the back of the lights. Then put 3" long stud bolts (5/8's diameter) into them. Mounted the brackets into the fog light housings and bolted the lights in. The wiring was poked through the fender grommet and then sealed back up with RTV. Since the switch panel has 6 switches we used a 6 wire trailer cable so there's wiring for all the switches so when I add other accessories all the wiring for the switches is already there so I don't have to poke into the fender grommet again. Note, the power wires for the switch panel go through the grommet too but are not part of the trailer cable. The switch panel was mounted to the dashboard and the wiring for it all was placed behind the pop off trim panel on the side. It can all easily be accessed for future projects.
The "under the hood" wiring is wired directly to the battery. I wanted to replace the factory terminals with heavy duty ones seen on Wranglers with the bus bar connectors. Unfortunately those would not fit with the battery cover/air thingy in place but I made it work. I was able to use the bus bars with the factory terminals and the battery cover fits without an issue. I may return in the future and partially drill out the bus bar so the bolts sit "down in it" so there's a few more threads grabbing but I haven't had any issues so I may just leave it. The relay for the lights is mounted to the side of the battery tray. All the wiring is loomed and zip-tied into place.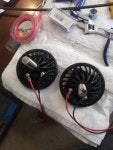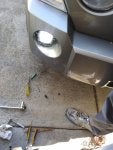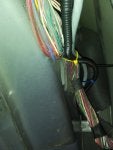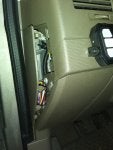 I've already got an idea for my next accessory light project... I'll post that once it comes to fruition.