Consumer Reports - December 2007
Auto Report: Small SUVs
Just got my hands on a copy of the December 2007 edition of
Consumer Reports
[CR] magazine. The first thing that caught my attention on the issue's cover was a headline promoting a 'Small SUV' review inside. My interest aroused, I quickly opened up the magazine to the index page to learn what vehicles had been reviewed in the hope that the Jeep Patriot had been included and, if yes, to see how it had fared overall and against the competition.
The good news is
the Patriot was included in the review (along with the Ford Escape, Kia Sportage, Saturn View, Kia Rondo and Suzuki SX4);
the not-so-good news is
apparently the people at CR don't think much of the Patriot. Out of 17 small SUVs ranked by the magazine, our Patriot ended up in a dismal 16th place just one step ahead of the Grand Prize loser Dodge Nitro. While I hadn't expected the Patriot to place first ahead of the Honda CR-V or the Toyota RAV4, I did think that the Patriot would easily earn a Top Ten spot and perhaps even make the Top Five.
Boy what do I know?
Nothing I guess because the Patriot wasn't even a remote contender having scored just half the number of points as the pack-leading RAV4.
Frankly I was shocked when I read these results because while I know the Jeep Patriot isn't perfect, it does do most everything that a driver expects from a vehicle in its class and price range pretty darn well. Plus it scores bonus points for being endearingly handsome or cute, depending on your gender predisposition.
Our personal fondness for the Patriot aside, I can only conclude after reading the review that either all of us here at JP.com are delusional fanboys and fangirls
OR
that the automobile testing staff at
Consumer Reports
puts something other than tobacco in their pipes.
Below find graphical links to the four pertinent Jeep Patriot pages from CR's latest review. Just click on each of the four thumbnail pages to download the full-sized page to your computer.
A word to the wise:
You might wish to get these pages while the getting's good .. just in the event they somehow disappear without warning.
In any case, read what the magazine has to say about our beloved Jeep Patriot and then post your comments and feedback back to this thread. I'm certain the CR review will stimulate some interesting discussions and that a passionate outpouring of opinion will ensue.
Finally to end on a weirdly positive note, be thankful you weren't born a lower than low, dirtier than dirt Dodge Nitro: it seems the professional pundits have labelled it as being beyond all hope or redemption.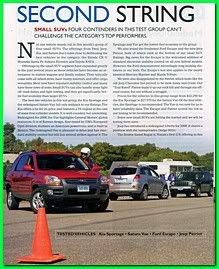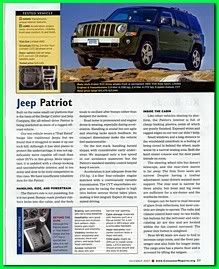 Irish Waif
​