Hello everyone,
We've been trying to find a great 15" option for the Patriot and with the help of a fellow forum member we've done just that. In fact, we've found 3 great 15" options for your patriot. Check it out.
Like we mentioned in the
Discount Tire wants your help: Anyone running 15" Wheels?
thread, our internal fitment guide is telling us that a 16" wheel is the smallest diameter that will fit the Patriot. After looking at the Patriot's brake dimensions and at the dimensions of some of our 15x7 0mm offset aftermarket wheels, we decided it was time to test fit. In looking at the wheel specs we discovered that a 15x7 with a 0mm offset should sit pretty similar to a factory wheel with a 32mm (1.25") wheel spacer. If this fit over the brakes of the patriot, running a wheel with these specs would give the vehicle owner the chance to run a wider and taller tire without the use of a wheel spacer.
--------------------------------------------------------------------------
Before I get to the results some of you may be asking,
"Why would anyone want to run 15" wheels on their Patriot?"
...
Here's a few reasons... First, if you have been looking for an off road tire option some of you may have discovered that there are not a lot of 16" or 17" off road tire models or sizes to choose from for the Patriot.
15" on the other hand, offers quite a few off road tire options
. Also, downsizing to
15" is also great for off road performance
. When compared to 16" and 17" tires of the same diameter, a 15" tire gives more sidewall height for better off-road performance and handling when aired down. 15" tire and wheel combinations
may also save you some money at the pump
. Depending on the wheel you choose, a 15" alloy wheel and tire combinations typically weigh less when compared to larger diameter wheel and tire set-ups. This, un-sprung weight savings translates into fuel savings.
note* If fuel savings is one of the main reasons you are considering running a 15" wheel and tire set up we recommend running an alloy wheel over a steel wheel
. Best of all though,
15" tires are typically more economical
so when you're due for your next set you'll have more money left over to spend on other Jeep mods
With the gracious help of a fellow forum member,
epper:
aroundincircles
,
epper: we were able to test fit a few 15" wheel models on the Jeep Patriot along with a few larger tire options (compared to stock). Here's what we found...
--------------------------------------------------------------------------
RESULTS of TEST FIT:
The 15x7 ET0 (4" BS) Unique 297, 15x7 ET0 (4" BS) Cragar Soft 8, 15x7 ET0 (4" BS) MB TKO, and 15x7 ET0 (4" BS) MB Chaos 5 all cleared the Patriot brakes with plenty of room and DO NOT require wheel spacers. The sizes we test fit were 225/75-15, 235/75-15, and 30x9.50-15. We selected these sizes as a lot of the members here are lifting their Patriots and running 29" + tall tires. Please see pictures below for notes.
Links to Wheels that fit:
Links to Tires tested:
Now on to the pictures!
*Please note that
aroundincircle's
Patriot has a 2-1/8" lift and PWM done. Also, any one of these wheels can be used with any one of these tire sizes to create the combination you are looking for.
15x7 ET0 MB TKO mounted with the 225/75-15 General Grabber AT2
Notes: This set up may fit non lifted Patriots IF the owner is willing to cut the pinch weld and trim the fender liner in the front fenders. No rear fender modification is required.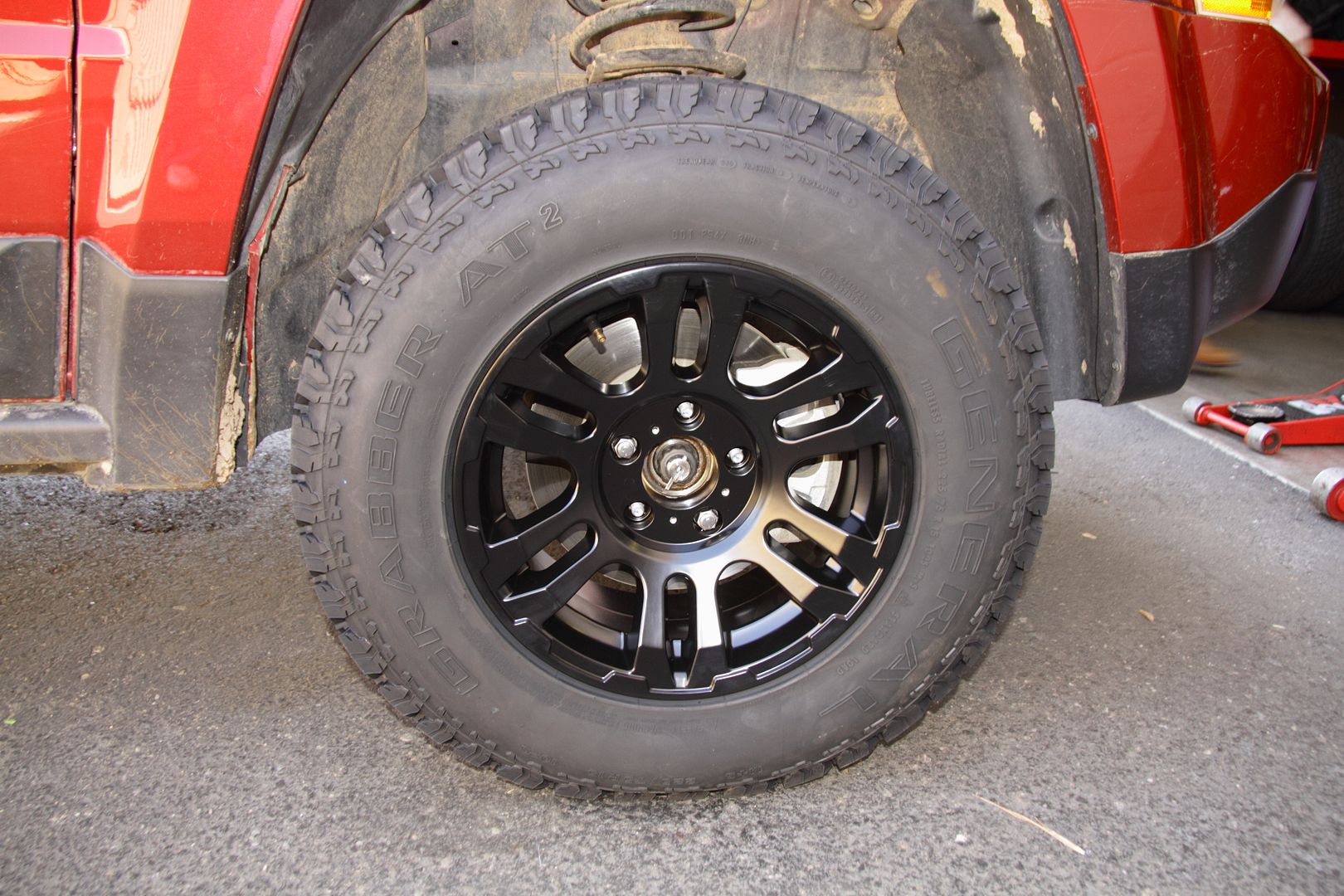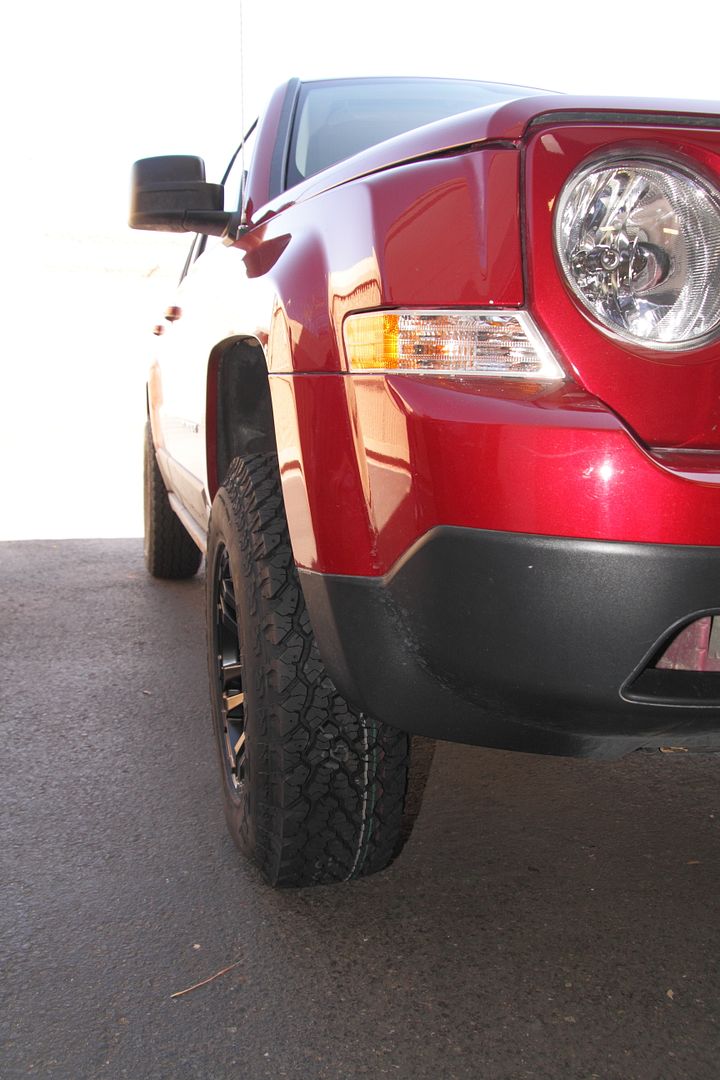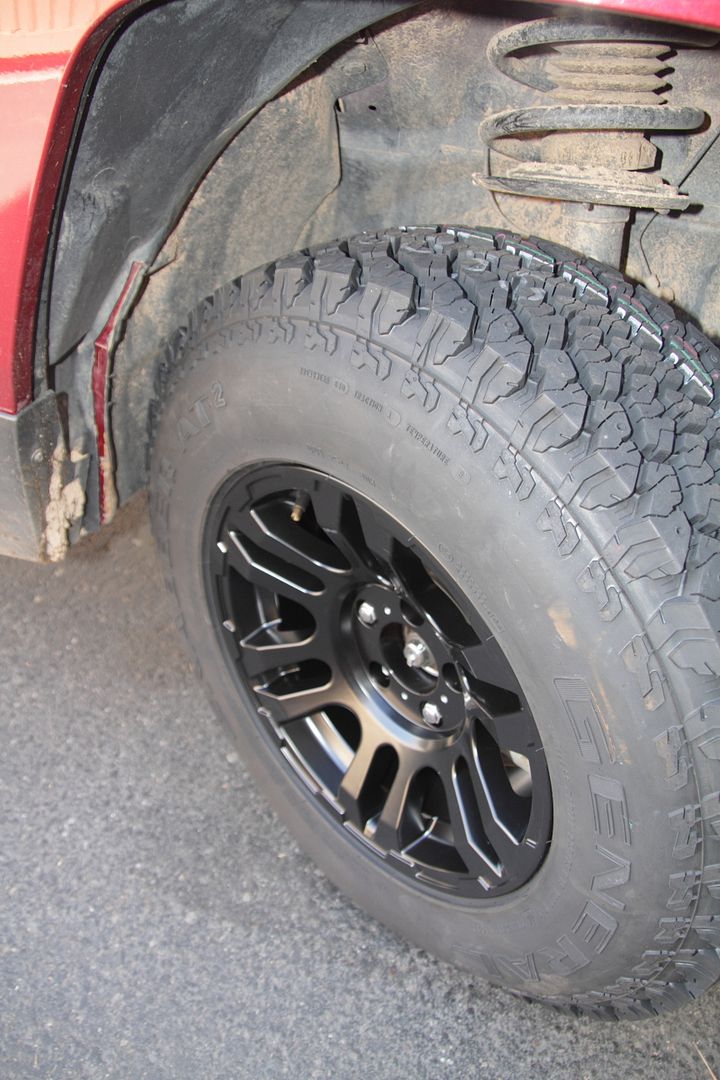 15x7 ET0 Unique 297 mounted with the 30X950R15 Discoverer AT3
With a 2 1/8" lift this tire requires the pinch weld to be modified (cut or bent) it also requires some modification to the front fender liners.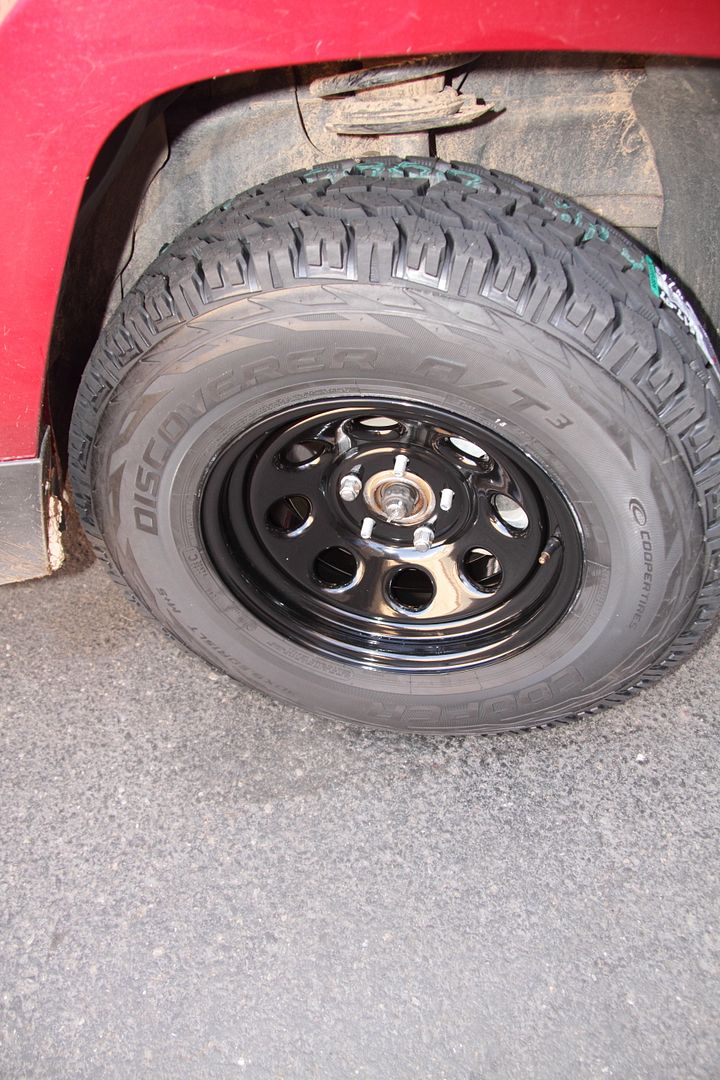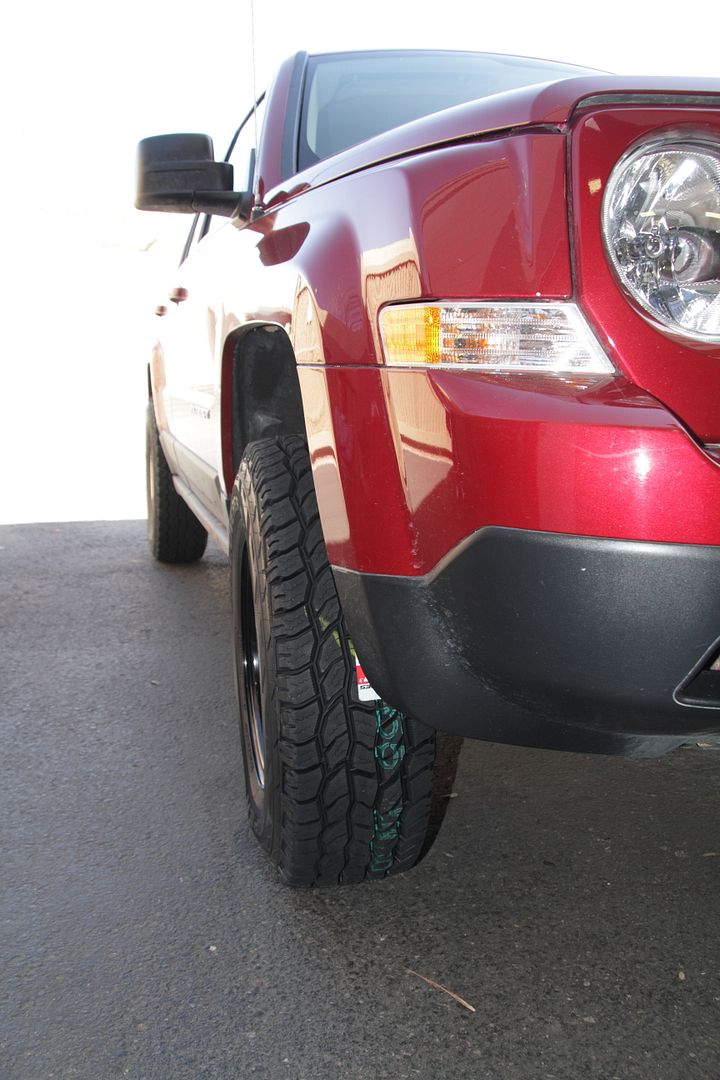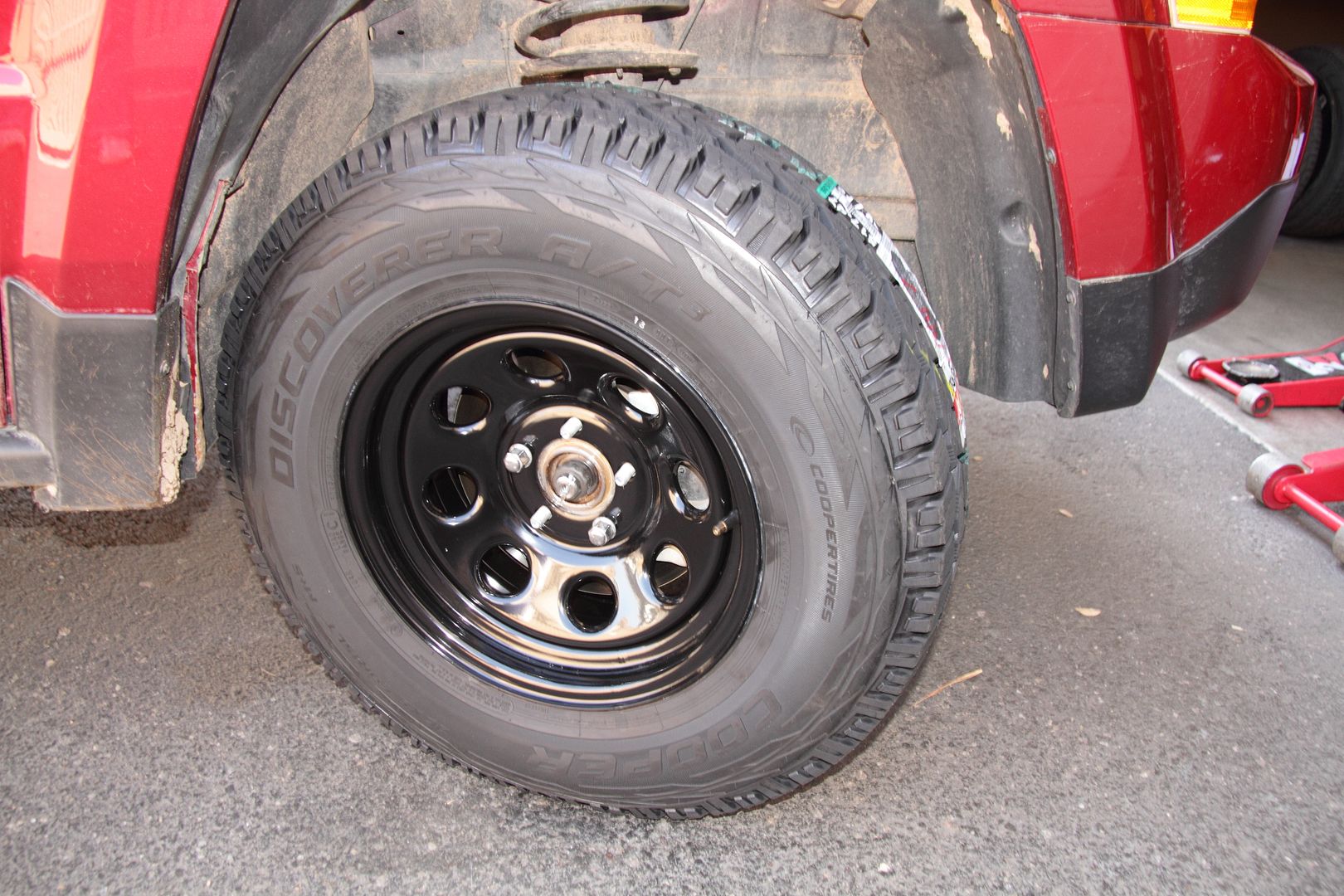 15x7 ET0 MB Chaos 5 mounted with the 235/75R15
Notes: This fitment requires a 2 1/8" lift, Pinch weld modification and fender liner trimming.